Disinfection Applications
Our misting system is one of the most effective solutions in the field of disinfection and decontamination thanks to the high coverage of atomized droplets, generated by 70 bar (1000 psi) pressure.

Fine droplets = improved coverage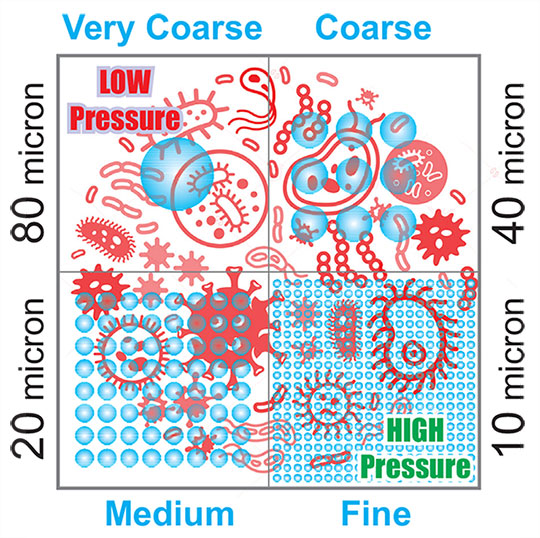 Our misting system sprays an ultra light mist of water directly onto the items to be decontaminated. Due to their teeny dimensions, these small volatile water droplets can reach any vertical or horizontal surface with a very high coverage rate, they evaporate without wetting so much as other low pressure spraying systems.
Decontamination from Covid-19 is made possible by using misted hydrogen peroxide in a concentration up to 3%.
Hydrogen peroxide is active against a wide range of microorganisms, including bacteria, yeasts, fungi, viruses, and spores.
No residues, evaporation degrades it to water and oxygen.
Higher oxidation potential than chlorine dioxide.
Click on the links below to find out more.
Disinfection with sanitizing tunnels
A tunnel or archway for the sanitisation and decontamination of items and people combined with Hydrogen Peroxide virucide spray.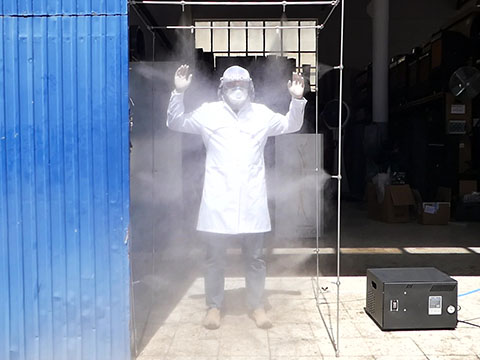 Disinfection and decontamination Tunnels and Archways represent a safe decontamination tool for everyone, in particular for those who work in close contact with groups and are therefore at higher risk. It can be installed at the entrance of public offices, factories, supermarkets, airports, hospitals, stations. It is suitable for all users who need to sanitise the workforce, goods, vehicles and materials.
Our Misting systems create a high concentration of ultra thin water droplets with an average diameter of 10 microns, having the ability to cover any surface with small particles, without wetting.
MODULAR SYSTEM
Our misting system is customized and modular, as regards every particular situation, Fast assembly, light, compact dimensions, Suitable for permanent or temporary installation, Tunnels can be linked together, completely tailored, made to measure and fully customizable to your site's requirements.
BENEFITS

Easy and fast installations
Automatic functioning
Cleanable nozzles
Minimum maintenance
Low chemicals consumption
Outdoor dust suppression with Misting
Mobile and stationary solutions for optimum virucide effect, minimal chemicals consumption, safe and simple.
High pressure fog systems are the most appropriate solution to spray Hydrogen Peroxide, H2O2 Sterilization, easy killing of bacteria, viruses, microorganisms in the air and on the surface of items, clothes, tools.
FINELY ATOMIZED MIST
The compact and easy to move Mobi-KEM meet the latest standard requirements for protection against Covid-19. Our models offer a universal, powerful and environmentally-friendly solution. The patented nozzle head and the spray gun generate a finely atomized mist which features a higher coverage of any surface without wetting.
SURFACES and AIR DISINFECTION
This method is ideal for hidden surfaces high-touch point areas such as pallets, packaged goods, clothes, tools, shopping trolleys, baskets, bikes, motorbikes, ambulances, other vehicles. Individuals decontamination and large areas decontamination is also possible by direct contact with the spray or air disinfection, by way of aerosol spray spread by our portable or fixed misting fans. We recommend the use of face shields, safety goggles for safety purpose.
WIDE APPLICATIONS RANGE
Typical fields of application include private and public sectors.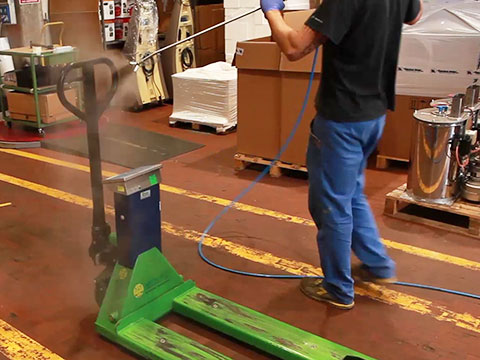 APPLICATION DOMAINS

Shopping malls
Factories and warehouses
Logistics, couriers, freight forwarders
Hotels and resorts
Hospitals
Airports, bus and train stations
Food processing industry
Events, beaches, swimming pools
---